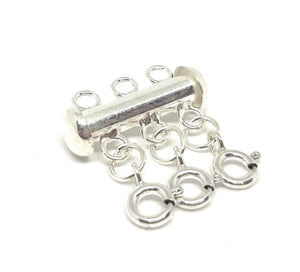 YarnNecklaces
Layered Necklace Clasp - 925 Sterling Silver for 3
Regular price
$27.99
$0.00
The MUST-HAVE accessory that everyone is raving about! Finally there's a Clasp that keeps your layered necklaces separated and untangled. The Layered Necklace Detangler Clasp is an essential jewelry accessory for anyone who wears layered necklace chains. This clasp makes it a breeze to put on 2 or 3 layered necklaces at once and will keep the chains untangled when wearing them. It makes a GREAT GIFT IDEA for the girl who has everything!

LONG-LASTING Quality Material: Sterling Silver - Barrel Clasp is secured with a notch slide lock clasp (no magnet). The Round spring clasps that hook onto the end of your necklaces are 5mm. All parts of the clasp are 925 sterling silver except for the notch on the inside of the barrel clasp that holds it together. This needs to be a stronger metal so it is made of stainless steel.


BENEFITS: With the Layered Necklace Detangler Clasp, you can create fun and trendy combinations with your chokers, medium length chains, and long necklaces. Once your chains are attached, you will only need to use the sliding barrel clasp to take them on and off, which will save you time getting ready. The clasp creates a tiered effect for your necklaces in front and prevents them from rolling together on the back of your neck and getting tangled.

HOW TO ATTACH YOUR CHAINS: Attach one of the round spring clasps on the Layered Necklace Detangler Clasp to the end of your shorter necklace chain. Using the spring or lobster clasp on your chain, attach it to the Layered Necklace Detangler Clasp loop on the corresponding side. Then do the same for the longer length necklace using the remaining layered necklace spring clasp and loop. Now you can use the sliding barrel clasp to take both necklaces on and off at the same time.
---
Share this Product
---
More from this collection