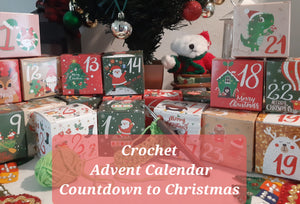 For those who MUST know what's inside of the Crochet Countdown to Christmas Advent Calender, here you go!   December 1 Handmade Crochet Tools Drawstring Pouch.  Store your favorite crochet goodies in this convenient drawstring pouch. One pouch is included. Others are shown for fabric variations. December 2 Write-On Stitch Markers.  Write notes of your projects on the white bead, such as hook size or type of stitch. Erase with nail polish remover or rubbing alcohol and reuse. December 3 3 mini Crochet Hooks Keychain. Sizes 3mm, 4mm, and 5mm. About 3 inches long. December 4   Mini Scissors Keychain.   To Open: Slide White...
---
You can use the yarn tension ring any time you are crocheting or knitting.  It is especially helpful when crocheting or knitting long periods of time because it can lessen fatigue and prevent the yarn from causing irritation on your fingers.
---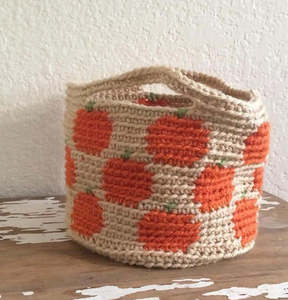 1. Scarecrow Amigurumi Doll -Free Crochet Pattern  https://stringydingding.com/scarecrow-amigurumi-doll-free-crochet-pattern/ 2. Fall Ornament https://www.goldenlucycrafts.com/crochet-fall-ornament 3. Fall Crochet Centerpiece Free Pattern and Video Tutorial https://www.windingroadcrochet.com/fall-crochet-centerpiece-pattern/ 4. Sunflower Candle Coaster https://www.darlingdanadesignsmn.com/post/sunflower-candle-coaster 5. PUMPKIN JAR COZY [FREE CROCHET PATTERN] http://www.dailycrochetpatterns.com/pumpkin-jar-cozy-free-crochet-pattern/ 6. Crochet Pumpkin Earrings https://theyarnbowlcrochet.com/?p=724 7. Crochet Pilgrim Gnome Free Crochet Pattern https://www.windingroadcrochet.com/crochet-pilgrim-gnome-pattern/ 8. Pie Oven Mitts https://www.ravelry.com/patterns/library/pie-oven-mitts   9. Thanksgiving Turkey Amigurumi -Free Crochet Pattern https://stringydingding.com/chicken-thanksgiving-turkey-amigurumi-free-crochet-pattern/   10. Thankful Crochet Table Runner Free Pattern https://brianakdesigns.com/thankful-table-runner-free-crochet-pattern/   11. crocheted fall wreath https://www.repeatcrafterme.com/2012/08/crochet-fall-wreath.html   12. Free Pattern – Cooked Turkey Hat https://snappy-tots.com/free-pattern-cooked-turkey-hat/   13. Chestnut Leaf Table Runner and Placemats https://www.abc-knitting-patterns.com/1329.html   14. Fall Jars Crochet Pattern https://www.highlandhickorydesigns.com/fall-jars/   15. Amigurumi Autumn Leaf...
---
I have collected some of the cutest and spookiest Halloween Crochet Patterns! These are ALL Free Halloween Crochet Patterns!! Enjoy! The crochet patterns include everything from Witch Hat Earrings to Skull Shawls. Pumpkin Trick-or-Treat Bags to Ghost Lollipop holders. A Halloween C2C Blanket to a Zombie Phone Case. All the photos and links to the FREE Patterns are listed below. You can even watch a video slide show I created here: I have numbered each pattern in the video and the description so you can match up the photo with the pattern link. Here are the Free Halloween Crochet Patterns:...
---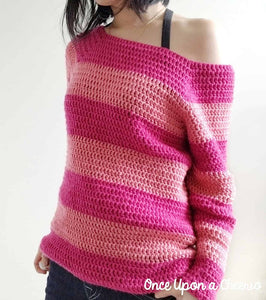 1. Four-Hour Fall Sweater Free Crochet Pattern 2.Simple Sweater 3. HAROLD CARDIGAN 4. Blossom Crocheted Blouse [FREE Crochet Pattern] 5. Crochet Sweater Pattern | Heather Sweater a Women's Easy Pullover 6. Rock & Rose – Cropped Crochet Sweater Pattern 7. Mocha Lacy Sweater 8. Elevation Sweater 9. The Waffle Cardigan Crochet Pattern 10. Henry Street Crochet Jumper [FREE Crochet Pattern] 11. Holly Berry Ruffle Sweater 12. CROCHET JUNIPER SWEATER 13. Cheshire Dreams Sweater Crochet Pattern 14. Crochet V-neck Sweater Free Pattern 15. CARON STRIPE IT FROM THE TOP CROCHET SWEATER, XS/S 16. Colorblock Cardigan 17. Top Down Crochet Sweater – Free Pattern...